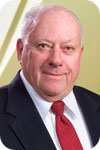 William R. Grogan (Bill), WPI class of 1946, is a life time member of the WPI community. After graduating from WPI with a degree in Electrical Engineering, he worked countless years for the navy as an electronics officer, as well as a part time consultant for General Electric Company. He holds several patents for his work with GE.
He was also a Professor of Electrical Engineering at WPI until 1970, when he became Dean of Undergraduate studies. He was instrumental at developing the "WPI Plan", the innovative initiative that revolutionized WPI, including the projects, grading, and term system seen today.
Bill is also a life time member and faculty member of the Phi Kappa Theta Fraternity. He is also a member of Skull, and has a wing named after him in the Campus Center, the Grogan Wing. Additionally, the William R. Grogan Award for Community Service is given annually in his honor.
Ad blocker interference detected!
Wikia is a free-to-use site that makes money from advertising. We have a modified experience for viewers using ad blockers

Wikia is not accessible if you've made further modifications. Remove the custom ad blocker rule(s) and the page will load as expected.