In previous years, Spree Day existed at Clark University as a major outdoor party sprawling across their campus. Some WPI students, not having a Spree Day of their own on campus, would travel over to Clark and partake of their Bacchinal.
Spree Day existed at WPI through around 1980. The big concert party seen was deemed to be out-of-hand and it was canceled. A similar event though much toned down call "May Fest" took place for a year or two after there was no longer Spree Day.
Bands playing Spree Day in 1979 include The Fools, The Stompers, and Shenandoah.
In 1978, it was The Cars!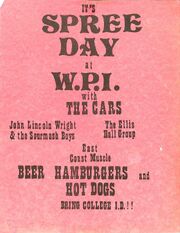 Memories.... Was it Joan Jett & The Black Hearts in 1980, or was it 1981?? I enjoyed these last two Sprees. Perhaps a little too mch... JB '83
Ad blocker interference detected!
Wikia is a free-to-use site that makes money from advertising. We have a modified experience for viewers using ad blockers

Wikia is not accessible if you've made further modifications. Remove the custom ad blocker rule(s) and the page will load as expected.