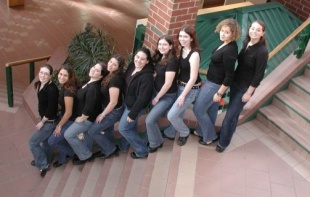 Interstate 8 (frequently referred to as I8) was the all-female a cappella group at WPI until 2006. The group got its name from the first members; there were 8 girls from 8 different states. Founded in the early 1990s, I8 maintained somewhere between 8 and 14 undergraduate members each year, and rarely fit the original 8 girl, 8 state characteristic. I8 hosted an annual concert, called Road Trip, in which I8 and groups from other schools performed.
In A Term 2006, I8 was renamed the Technichords.
External links
Edit
Ad blocker interference detected!
Wikia is a free-to-use site that makes money from advertising. We have a modified experience for viewers using ad blockers

Wikia is not accessible if you've made further modifications. Remove the custom ad blocker rule(s) and the page will load as expected.