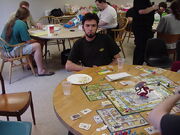 Dan Nash, aka Silent Dan, is a member of the Class of 2005. He was a member of the Science Fiction Society from 2000 to 2005. Dan earned his nickname by being very quiet, preferring to listen instead of speak. This earned him honorary ninja status among the club's ranks. He was also known for not sleeping (except on Sundays) and a diet consisting primarily of Mountain Dew.
Dan was originally a member of the Class of 2004, but his graduation was delayed when he broke his leg.
Ad blocker interference detected!
Wikia is a free-to-use site that makes money from advertising. We have a modified experience for viewers using ad blockers

Wikia is not accessible if you've made further modifications. Remove the custom ad blocker rule(s) and the page will load as expected.