The Class of 2004 consisted of 503 students. Commencement ceremonies were held on The Quad on May 22, 2004. Robert P. Moses, a civil rights activist, gave the commencement speech. This was the last graduation ceremony presided over by President Edward Alton Parrish.
The yearbook theme for the Class of 2004 was "Engineering the Future."
Board of Directors
Edit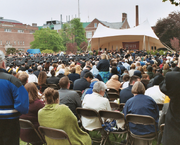 The following people make up the Board of Directors for the Class of 2004:
Ryan Angilly
Crystal Caron
Jonathan Casey
Jackie Chan
David Chiu
Anthony Cosenze
Sean Coughlin
Kari Aldebaran Fletcher
Matthew Leahy
Megan Lindberg
Tony Maietta
Laura Matejik
Jessica McAlear
Nicole McMahon
Stephanie Morin
Sean O'Rourke
Alicia Pierce
Christin Reynolds
Christain Roy
Katrina Salamon
Lisa Sasur
Michael Schwartz
Jessica Sexton
Smriti Shrestha
Madeline Sola
Sarah Walsh
Jennifer Williams
Kate Youmans
Office of the President
Edit
Ad blocker interference detected!
Wikia is a free-to-use site that makes money from advertising. We have a modified experience for viewers using ad blockers

Wikia is not accessible if you've made further modifications. Remove the custom ad blocker rule(s) and the page will load as expected.